Patio Heaters – Extend Your Outdoor Living Season in Comfort
Your outdoor space makes up a significant portion of your home.
With the right elements, you can easily create a space that rivals your dream backyard.
This is where outdoor patio heaters come in!
What was once reserved for high-end restaurants and hotel patios is now a popular addition to many private backyards, creating a stunning space that radiates cozy comfort.
If you've been considering how you can elevate your time outdoors and amp up your patio in an affordable way, patio heaters should definitely be on your list!
In this article, we're going to share everything you need to know about outdoor patio heaters, from some of their most beneficial aspects and the main types to some stunning options and how you can find your perfect match.
Keep reading to discover the best way to heat up your outdoor space this season!
5 Luxurious Benefits of Outdoor Patio Heaters
Adding a heater to your outdoor space can transform your patio into a warm, inviting escape, but they do so much more than just that!
Here are some of the most enjoyable benefits of outdoor patio heaters.
1. Year-Round Enjoyment of Your Space
There's nothing worse than the arrival of cold weather and feeling confined as you begin spending all your time indoors.
Patio heaters are the perfect way to extend your time outside, enjoying your backyard!
Under the shelter of a covered patio, or gazebo, their cozy warmth can keep you toasty warm no matter the weather, ensuring you maximize your usable space all year round.
2. Boost Your Patio Ambiance
Not only do they keep you toasty warm, but they also create the ultimate backyard ambiance.
With their soft glow and soothing warmth, you'll quickly discover a cozy, romantic escape right outside your patio doors.
3. Maximized Your Ability to Entertain
Are you someone who loves to host parties?
Outdoor patio heaters can ensure your gatherings are able to remain outside even as the temperature drops.
Not only does this maximize the usable space of your home during events, but it provides a unique appeal to your space that your guests are sure to adore.
4. Responsive Warmth to Heat Up Your Space Fast
Unlike fire pits and fireplaces, patio heaters begin pumping out heat the moment you turn them on.
Say goodbye to fighting with wood, and embrace the ease of warming up your patio with a push of a button.
5. Versatile Designs to Meet Your Needs
With their various designs, you can easily add a patio heater to your space precisely where you need it.
Whether you want heat radiating from above the patio door to keep the chill out each time it's opened or have a larger space and need your heater to be portable, there are solutions to easily meet those needs.
Types of Patio Heaters
Outdoor patio heaters often come in one of two distinct fuel styles:
Gas
Electric
Each one of these styles offers its own unique pros and cons.
Gas
Gas patio heaters either use natural gas or propane as their primary fuel source.
Propane is generally more often used simply for the ease of access it provides, especially for portable units.
These heaters offer a sturdy design and produce steady, powerful heat with a wide radius.
Gas heaters require ample ventilation, so it's important to only invest in one of these patio heaters if your outdoor space is well-ventilated.
Electric
Electric heaters offer a more environmentally friendly solution if you're looking for an option that boasts a smaller carbon footprint.
These heaters provide an effortless user experience and are ideal for spaces that don't have much ventilation.
Electric heaters work well for smaller spaces due to their lower heat output and are suitable for closed-off areas where a gas heater may not be an option.
3 Stunning Outdoor Patio Heater Options
At Crystalview Pool, Spa & Patio, we career both gas and electric heaters.
Here are three stunning options to transform your outdoor patio.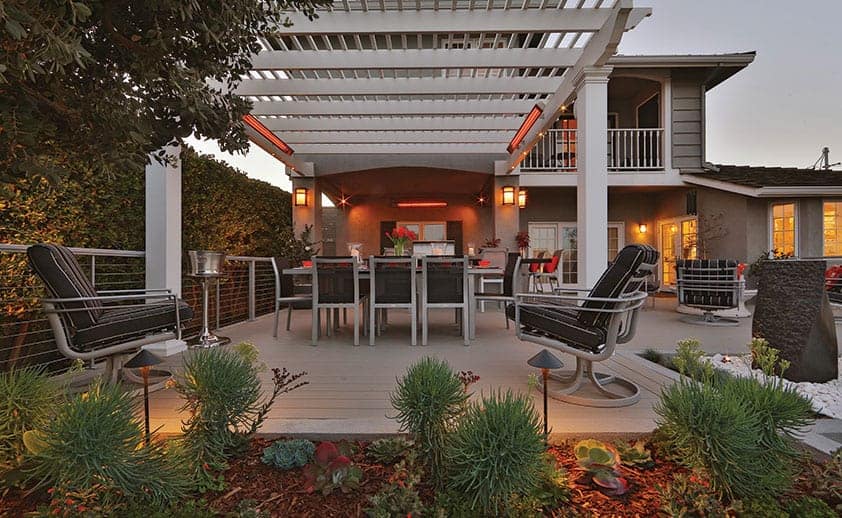 1. Infratech C/CD Series
If you're looking for a compact electric heater with a sleek design, the Infratech C and CD Series patio heaters are the ideal solution for you.
These heaters are ideal for small spaces, and with their slim shape, they're perfect for installing above your patio door.
Infratech heaters boast impressive energy efficiency, converting over 90% of input energy into heat.
Furthermore, the heat emitted from this heater is both predictable and reliable, heating you and your guests directly, not heating the air. This makes them a perfect outdoor solution that won't be affected by the wind!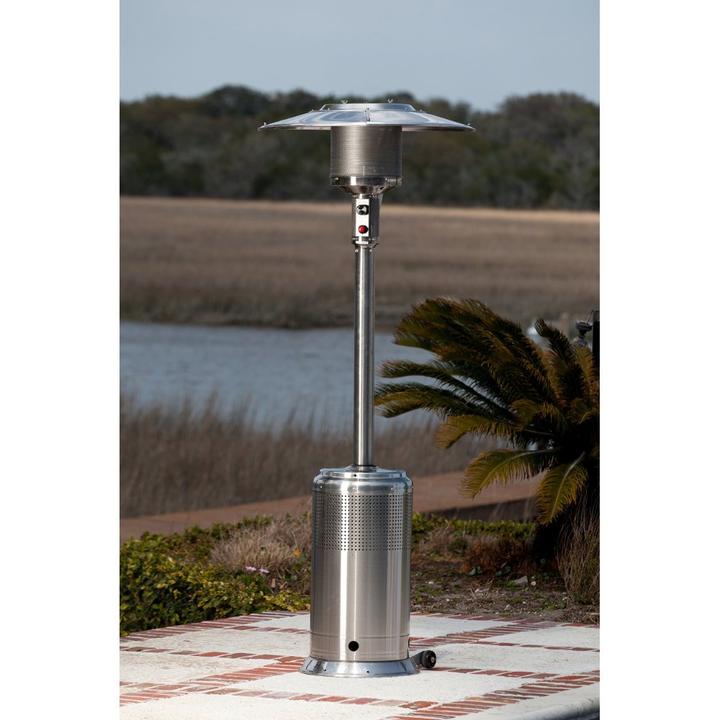 2. Vulcan Pro Series Patio Heater
If you want your heater to make a statement, the Vulcan Pro Series Patio Heater is sure to hit the mark.
Boasting a fully stainless steel design, this propane heater will add an element of modern beauty to your patio.
This heater offers a user-friendly experience and boasts a portable design.
Outfitted with wheels, this heater can easily be moved around your patio to provide heat exactly where you need it and includes an electronic ignition system making it simple to fire up.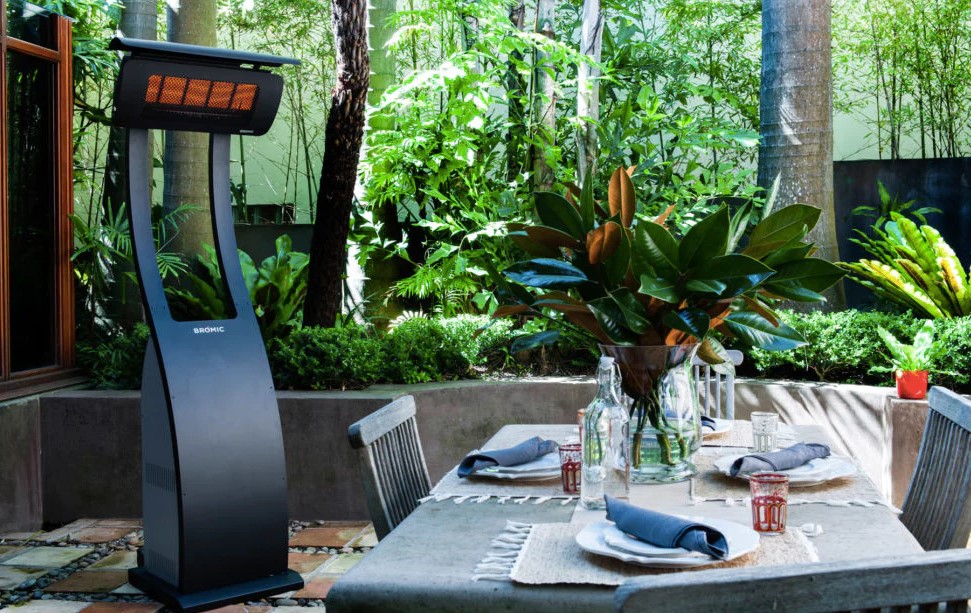 3. Bromic Portable Tungsten
This stunning propane patio heater is sure to leave your guests breathless.
With its stunning black finish and its enclosed design to keep your propane tank out of sight, the Bromic Portable Tungsten is the ultimate patio heater.
This heater was designed to provide you with complete control, with patented adjustable heat controls, a portable design, and an innovative tilting head.
With this heater, you'll never be left wanting more.
How To Choose Your Patio Heater – Things to Consider
When it comes to choosing your patio heater, there are a few influential factors that should be carefully considered before settling on a model.
Fuel Type
Possibly one of the most important factors to consider is how your heater will produce heat; through gas or electricity.
As mentioned above, gas heaters require plenty of ventilation, while electric heaters can easily be used in enclosed spaces.
Before settling on a type of heater, consider your patio design, ensuring the heating style you choose can safely heat your space.
Size
This encompasses both the size of your backyard and the size of the heater.
Patio heaters come in various sizes and provide a different range of heat.
While gas heaters provide a wider range of heat, if your patio is smaller, you may not want a large heater taking up valuable space, especially if an electric model would easily meet your needs.
Budget
Patio heaters come with a wide price range.
While some have a price tag of a few hundred dollars, others can cost a few thousand!
Knowing your budget before you begin searching for your ideal heater will help you narrow down your options and find one that can both meet the needs of your space and respect your budget.
Patio Heater Safety Tips
While patio heaters provide a soothing way to enjoy your backyard, they require some care when used to ensure everyone's safety.
One of the most important safety considerations is to ensure your heater is off (and cooled) before you move it.
Another important safety measure is to carefully consider where you're placing it.
You'll want to ensure your heater isn't too close to other elements of your backyard and that there is enough ventilation if you're using a gas or propane heater.
With any patio heater, it's vital to follow the manufacturer's guidelines and warnings to ensure it's properly installed and that you're using it safely.
Outdoor Patio Heaters in Vancouver, BC
Offering one of the more mild winter climates throughout Canada, Vancouver provides the perfect atmosphere to fully embrace all the benefits of outdoor patio heaters.
Make the most of your backyard space and embrace the cozy warmth of a patio heater from Crystalview Pool, Spa & Patio.
We pride ourselves on providing our community with top-quality products that enhance day-to-day life right at home, from hot tubs, swim spas and outdoor living essentials.
Discover our patio heating options through our convenient online store, or visit our showroom to explore our units in person and learn more about the various options available.
Our team of experts will be happy to help you create a luxury backyard escape you can enjoy 365 days a year!